Learn about to Scansion of Poetry
Invite award winning children's poet and teacher Robert Pottle to your school!!!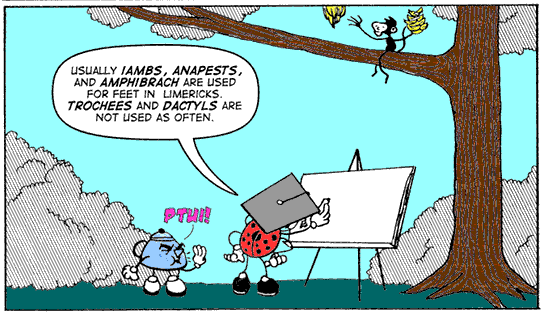 Poetry Bug: Usually imbs, anapests, and amphibranchs are used for feet in limericks. Trochees and dactyls are not used as often.
Line 1: In the corner is Miss Moxie Day.
Line 2: The corner is where she will stay.
Line 3: 'Cause she thought it was funny
Line 4: to feed the class bunny
Line 5: a carrot she made out of clay.
Check out books by award-winnig children's poet Robert Pottle
Children's Author and teacher Robert Pottle now has a DVD!
Teachers, learn how to teach story writing from a professional author and teacher!

Teachers check out Robert Pottle's Matrix Writing!
Poems, text, and color by: Robert Pottle
Line art by: Jonathan Siruno