Learn about the Metrical Foot: Trochee
Invite award winning children's poet and teacher Robert Pottle to your school!!!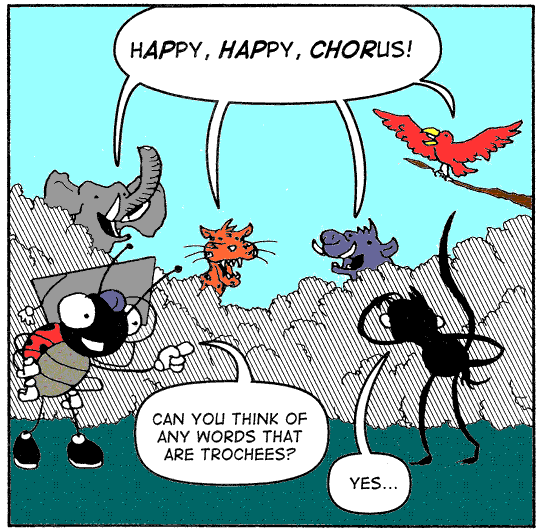 Jungle Chorus: Happy (hap-py), happy (hap-py), chorus (cho-rus)!
Poetry Bug: Can you think of any words that are trochees?
Monkey: Yes...
Robert Pottle: Trochaic tetrameter is a meter in poetry. Here are a few lines written in trochaic tetrameter:
Double, double toil and trouble, Shakespeare
Tyger Tyger burning bright, William Blake
Giggle, Giggle, Snicker Laugh! Robert Pottle
Check out books by award-winnig children's poet Robert Pottle
Children's Author and teacher Robert Pottle now has a DVD!
Teachers, learn how to teach story writing from a professional author and teacher!

Teachers check out Robert Pottle's Matrix Writing!
Poems, text, and color by: Robert Pottle
Line art by: Jonathan Siruno